What follows is the start of new series of posts for this blog. You see, I have completed numerous travel drawings which I am not quite sure about. Right now they are sitting around, collecting dust, visible to the eyes of no one. But I don't know what to do with them, because the genre of the architectural travel drawings is a very funny thing. A good travel sketch doesn't necessarily have to be accurate or even beautiful. Rather, the goal is to capture the feel of a place, and burn the memory of that feeling into the artist's mind so that it may later be tapped into whenever the creator, in some future time of need, is hungry for precedent or inspiration.
Even by those unconventional standards, I have done some drawings which I am not sure about. When I look at them, I can tell that they mean  or suggest something, but I am not sure of exactly what they want to say to me. Or maybe the drawing was slightly off but had some interesting ideas. Sometimes I will even will put one of my drawings away for a few months, and then come back to it later and feel something different towards it. The following drawing, which I made last winter while sitting in one of the grand old squares of Savannah, Georgia, was one piece that made me feel that way: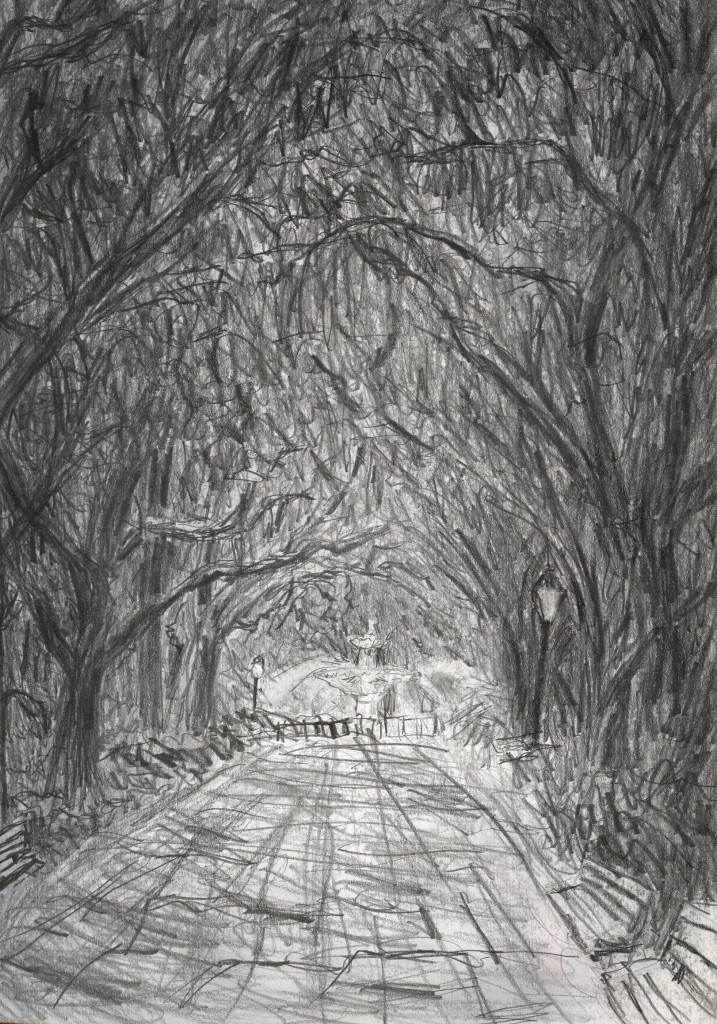 There. It's posted. I feel better. And next week, I will post some other drawing to go along with it. And every Tuesday from now on, I will post another new previously unpublished travel drawing on this page.  Some of the submissions will be drawings that I have just recently completed, perhaps minutes before posting them, while others will be old work that I have been afraid to look at for months. Whatever the outcome, I shall be returning to an old art form that is often overlooked in our contemporary world of architects who click rather than draw.
(Note: Although I will continue to share my travel sketches with you, I have since decided that only posting new sketches every Tuesday may not be the best fit for the non-linear nature of my mind.)